Samsung Spica i5700 Review
When the Samsung Spica came out a few weeks back, I was surprised with the retail price of the handset. It one of the most affordable Android-powered smartphone in the market. We looked deeper into the Samsung i5700 before handing out the verdict.
At first glance, the Spica looked like most other candybar phones released by Samsung with that distinctive design. The navigation panel is a bit intricate that you'd either love it or hate it. The control pad actually has 7 buttons laid out and separated by curved lines (and that does not include the 4-way directional pad).
In hindsight, the physical controls are basically the same as that of the HTC Hero but because of the layout/design, using them is a bit confusing (it's got to do more with the layout of the keys). You get used to it in time.
On the side — there's a dedicated camera button on the right with a lock button on top of it while the volume rocker is on the left. The micro-USB port is on top beside the 3.5mm audio jack. The body is mostly made up of rubbery plastic back panel and brushed-metal finish in front. There are red accents on the OK button and the front speakers. It's a little thick at 13.2mm but not really bulky on the hands.
The 3.2″ display screen isn't the largest we've seen but enough for a touch screen phone. The display is nice with a bright and crisp resolution.
Like the Hero, the Spica also suffers a bit with the virtual keyboard that's somewhat cramped. The individual keys are a little skinny in the vertical orientation but that changes when you switch to the landscape orientation.
The interface is the basic Android UI with 3 panels. Samsung did not bother to include a layer UI on top of it. It would have been nice to see some eye-candy, even if it's just the TouchWiz UI.
The Spica is powered by Samsung's very own 800MHz processor and as such, apps and others functions (like media playback, browsing) are pretty snappy. The Spica actually ranks #2 among the fastest Android smartphones locally available, next to the X10, if we based it clock-for-clock. Most of the time though, it feels like the two handsets perform at par with each other.
The Spica has Android 1.5 (Cupcake) pre-installed but, as of this time, you can actually have it upgraded to Android 2.1 (Eclair). That's an added bonus which I think was key to the Spica's growing popularity.
Connectivity isn't an issue with the Samsung Spica — it's got Bluetooth, WiFi 802.11 b/g, 3G/HSDPA and GPS. Like most other Android handsets, there's no native 3G switch (there's a Switchers widget that controls everything else) so you'll have to install an app like APNdroid to control 3G connectivity on-the-fly. Not a big deal but first time users should take note of this.
The 3.2MP camera isn't impressive but decent enough. There's no built-in flash but at least it has auto-focus. Here's one shot I managed to take with it (forget the 15fps video recording).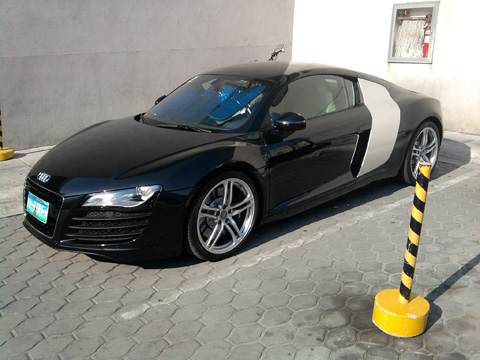 Off-topic: I have to say — taking a ride on this Audi R8 was a blast. Feels like I'm on a rocket ship will all that G-force pulling me back.
Battery life is expectedly normal (with the 1500mAh Li-Ion) for smartphones like the Spica — can do 2 days on casual connectivity use but can easily drain in a day with heavy use. I suggest bringing a spare cable charger with you all the time.
If there's a noticeable disappointment with the Spica, I think it would be the amount of internal storage that came with it. The 180MB internal storage seems too small if you're looking to install a ton of apps. For all other file storage concerns, you'll have to separately invest in a microSD card. The unit I got only had 1GB with it but you can stick in up to 32GB if you have the extra cash.
Ok, then there's no multi-touch support too even if you upgrade to v2.1 — not a deal-killer but certainly something you'd miss on a touchscreen phone (especially with Google Maps and Photo Gallery). At least it's got some sort of haptic feedback so you feel some subtle vibrations when tapping keys or the dial pad.
All in all, the Samsung Spica i5700 is a one desirable smartphone, especially to those who will be getting their first ever Android handset. This is highlighted by the fact that its got the basic features of Android smartphones at a very affordable price (Php13,800 in some stores) — less than half the price of other Android phones of the same caliber. It's got its fair share of shortcomings but it gets bonus points for being capable to upgrade to Eclair v2.1. Samsung should get some good karma for introducing this handset into the local market.
Disclosure: Globe Telecom gave me this handset for free and Samsung is an advertiser on this blog.